---
ERAS Seminar 2016
01

Dec 2016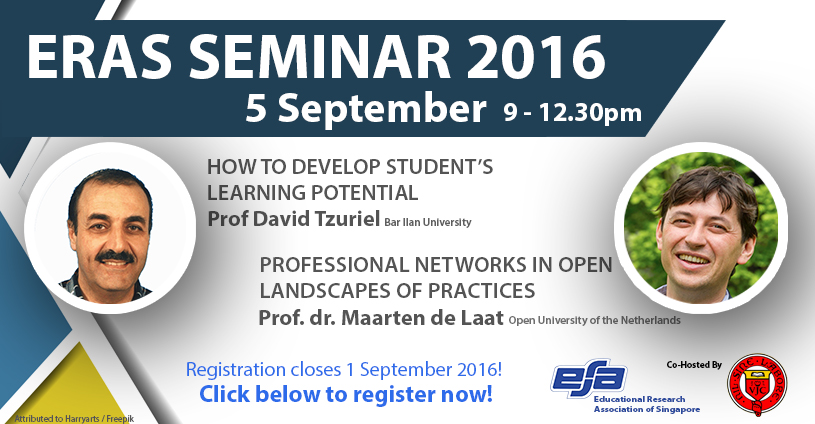 Thank you for attending the seminar!
Prof Maarten De Laat's slides can be downloaded here.
ERAS Seminar 2016
5 September 2016, 9am to 12.30pm.
Victoria Junior College (See Map)
Venue : The Meeting Room (Please take the spiral staircase near the fountain to the second level)
Programme Schedule
Time

Event

9 am to 10.30 am

How to Develop Student's Learning Potential

Prof David Tzuriel

10.30 to 11 am

Tea Break

11 am to 12.30 pm

Professional networks in open landscapes of practices

Prof. dr. Maarten de Laat
---
How to Develop Student's Learning Potential
The concept of Learning Potential has been referred to by many psychologists as a myth, whereas for others it is a reality exemplified in everyday life situations. This concept is intimately related to issues of assessment, teaching, and intervention hence its importance. My main argument, supported by research on brain plasticity is that every individual has higher learning potential than what is manifested in academic or test performance, but its actualization depends on the quality of parent-child, teacher-child, and peer's interactions. In this presentation I focus on mediated learning processes (MLE) that affect cognitive modifiability. MLE describes a special quality of interaction between a mediator and a learner. In this interactional process, parents, teachers, or peers interpose themselves between a set of stimuli and the learner, and modify the stimuli for the child. In this presentation I will demonstrate the relation between the quality of parent-child MLE interactions and cognitive modifiability, as well as the effects of intervention targeting peer-mediation on cognitive modifiability. I will discuss evidence and examples that support the conclusion that learning potential is a reality and not a myth, provided sufficient mediation is given to the child in family and educational settings.
About the Speaker
Prof David Tzuriel

Bar Ilan University

David Tzuriel, Ph.D. is a clinical and educational psychologist and an expert on dynamic assessment of learning potential. David Tzuriel has received his Ph.D. from Peabody College of Vanderbilt University in 1977 and currently is a Professor Emeritus at Bar Ilan University (Israel) and the Head of the Research Unit at Feuerstein Institute in Jerusalem. David Tzuriel served as the President of the International Association for Cognitive Education and Psychology (1999-2001) and as Editor-in-Chief of the Journal of Cognitive Education and Psychology (JCEP; 2006-2011). His scientific work is related to empirical validation, implementation, and modification of the theories of Feuerstein and Vygotsky, and his research is cited frequently in the literature. David Tzuriel has published many studies and books in the field of dynamic assessment, mediated learning experience, and cognitive education programs, as well as 7 dynamic assessment tests for preschool children that are used all over the world. David Tzuriel is known as a leader and developer of the dynamic assessment movement and taught more than 185 international workshops around the world.
---
Professional networks in open landscapes of practices
Schools, when thinking of teacher professional development, often rely on refreshment courses given by experts, in-service training, or personalised learning trajectories such as coaching. These formal training opportunities provided for teachers represent just the tip of the iceberg when imagining all learning that takes place triggered by the challenges teachers face in their daily practice. These more spontaneous and informal ways of learning are largely overlooked and remain therefore implicit and are often ignored. Yet at the same time there is a large body of literature that convincingly shows that these forms of spontaneous work related learning are important drivers for professional development and lifelong learning in general. Within this body of research there is a tendency to move away from an emphasis on training towards a focus on learning – embracing new metaphors that emphasize social learning as participation, co-creation and becoming, starting from the notion that working, learning and innovation are integrated aspects of daily work. In this light professional development is a continuing process of acting, reflecting, and changing day-to-day practices. This perspective gives rise to a more bottom-up understanding of learning where workers with their colleagues interact about their work experiences and share through their network their experiences, knowledge and contacts, providing open access to new or alternative resources.
Innovative teacher professional development should involve therefore opportunities for teachers to develop professional networks and connect their practices to share their expertise, learn from peers, and collaborate on real-world projects. These networks not only concern the practices within your own school. Participation also means involving yourself with a larger perhaps even an open global landscape of practices. Networked learning is an emerging perspective that tries to understand this process by asking the question how people develop and maintain a 'web' of social relations used for their own and reciprocal learning and professional development. What is the quality of these relations and what determines learning within this relationship? A networked learning perspective attempts to challenge this by focusing on the diversity of social relationships people develop. In the area of professional development for teachers for example; what matters is the relative number of contacts (and its quality) one has to share work related experiences with. This can mean talking with one or more colleagues in the hallway or in the coffee corner; or sending an email, Skype or phone with a few peers around the world, or sharing your experience with one or more communities you are a member of. Networked learning puts the emphasis on the learner and tries to maximise the network in which this person navigates in support of its learning, whether this learning is personally driven, collaborative or collective. During this presentation I will touch on these issues and demonstrate how teachers can build professional networks through connecting open practices.
About the Speaker
Prof. dr. Maarten de Laat

Open University of the Netherlands

Prof. dr. Maarten de Laat is a Professor of Professional Development in Social Networks at the Open University of the Netherlands. His work is concentrated on exploring social learning strategies and networked learning relationships that facilitate learning and professional development in educational institutes and professional organizations. His research addresses social capital, with a specific interest in informal learning and knowledge creation through (online) social networks and communities and the impact technology, learning analytics and social design has on the way these networks and communities work, learn and create value. He has published and presented his research extensively in international research journals, books and conferences. On the subject of Networked Learning he has co-edited a book on Research, Boundaries and Policy in Networked Learning (2016 – with Sinclair, Ryberg and Bayne) and Place-based Spaces for Networked Learning (2017 – with Carvalho and Goodyear). Maarten is co-chair of the biannual International Networked Learning Conference.